8:32 PM   
     75

My Mood:

    I had my Upper GI...I'm guilty of not reading the info they sent home with me! I didn't know that I would have all the air after! OMG was I burping!  It frightened me so bad...I tried to cover my mouth and say excuse me! They grabbed my hand and was telling not to try to talk, I couldn't talk the camera was still down my throat! ~*giggle*~ I NEVER heard myself burp like that! It was UN-HUAMN! WOW
    Lovie and I went by Cracker Barrel on the way home to have breakfast, it was so good! I had buttermilk pancakes with scrambled eggs and grits...YUMMY! After we got home Lovie tucked my into my nest and sleep most of the day.
    My doctor removed two polyps and found that I have a heitel hernia. He up my acid reflux meds for the hernia, it's not bad so no surgery was needed, the meds will take care of it. I had to call today for the results of the biopsy...Thank goodness it was benign. Thank you God for answering my prayers as always!
    We went to my sister's Sunday for a BBQ. It was so nice to just sit and visit with the family. My Pookie is growing so fast! And he is going to be a Big Brother in February! I'm so excited to be Great Auntie Jeauxdi again!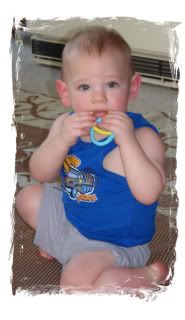 Have sweet, sweet magical dreams...