8:54 PM   
     54

My Mood:

    Mardi Gras season is always full of fun, throws, food, family, friends and king cake! Lovie and I had our clocks set for 5 AM Saturday morning...I woke at 4 AM but was able to slumber away for another 45 minutes. We woke had our coffee and got movin'!
    We picked up the boudin balls on our way into town and Lovie had a couple with a link a boudin for his breakfast. We got to our spot and unloaded and got everything set up with our friends. My BFF's hubby had to work, so Lovie helped out with the cooking. Everyone ate, visited, danced and waited for the parade to roll. There is nothing like everyone coming into the city, you get to see people you haven't seen in years and meet new friends. Here are some pics from our fun!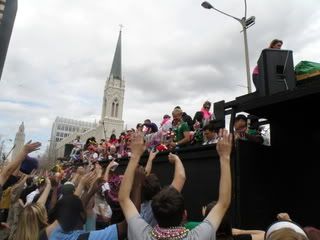 If you're planning on catching a parade tomorrow have fun and stay safe! I asked Lovie what he'll be giving up for lent but he hasn't made his mind up yet. (I'm Baptist, so I do not pro take in lent) Happy Mardi Gras!