11:58 AM
79
My Mood:
Remember that dream I was going to catch a while ago...YEAHhhhh, I'm still chasin' it! I haven't been asleep yet!

OH but I am about to snuggle down with the Furry Girls here on the sofa and take me a good nap! Now let's have some Blog Fun!
Do your animals rule the house?
The Furry Girls rule this house with Lil FURRY paws! Belle will let you know when you are not throwing her toy fast enough, if you are throwing sissy's toy and not hers (HOW dare you!) when she wants a treat she sings to you! Lexi (mainly rules her Daddy! with her newly discovered voice!!!) thinks her toy should be picked up from between her feet after she fetches it! (Now WHY in the WORLD do they think "I" should pick my toy back up and give it to them after "I" went allllllll the way over there where THEY threw it and brought it back, OMG I HOPE THEY THROW IT AGAIN ~WOOF~ WOO~WOOF~ get it! get it! Daddy!) Yeah these two furry hussies rule the coop around here!
"Belle"
"Lexi"
Today I'm feeling good about:
feeling better! I think I can see that light!
our new home! Feeling more like home everyday!
the love for my husband! My love for him grows bigger everyday for him.
just being me...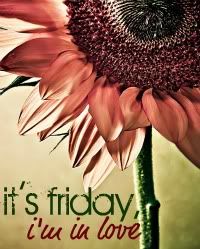 I have a hubby that likes some of the thing I do and I like some of the things he does!
1. What is your favorite season? Fall
2. Do you do anything special to acknowledge the change of seasons? Spring clean & decorate for Easter/Spring
3. Planning to do any spring cleaning this year? just a little, house was clean when we moved in
4. What is your favorite plant and why? plant...Oh, I have never picked a fav plant. Hmmmmm...Something for me to ponder.
5. Hows about a poem? C'mon, it can be about anything you like.
~ Sunshine ~
Sunshine, warm and bright,
shine down on me your natural light...
Sunshine, big in the sky so quiet,
you're always a blessing from above such a sight...
You lower your head as you take your rest each night,
I have no worries, for I know God will hang you again in the morning,
to be my shining light.
~ Jeauxdi
Have a FABULOUS weekend your way, make sure you have fun, show lots of love to
your family and friends and ~