10:25 PM   
     74

My Mood:

    I haven't heard from my blood work yet. I am hoping they will call tomorrow...I don't like the wait! Kinda drives me a lil nuttier, if that is possible! =0/
    Lovie and I went to St Francisville Saturday to visit a few plantation homes and take some photos. We started out at Hemingbough...It was very lovely, they had a wedding that afternoon. It was so peaceful, they had soft music playing in the amphitheater that just made you forget everything. There were wind chimes in the trees that were delicately dinging with the wind, statues placed in all the right spots, it was so nice. 
    Our next stop was the Butler-Greenwood Plantation it is one of the oldest homes in Louisiana that is still owned by the original family! They still have family members living in the home so we only were able to tour the bottom floor. There is a lot of original furnishings and belongings still in the home which was very rare!
    We were ready for lunch so we went to a local cafe and had a wonderful meal. We both had a yummy hamburger! It was HUGE!
    On to Rosedown for our last stop...The state bought this one a few years back and they have really brought it back to it's true luster! They have also managed to get some of the original items back in the home. We enjoyed this one the best! Here are a couple pics from the over 400 between the both of us...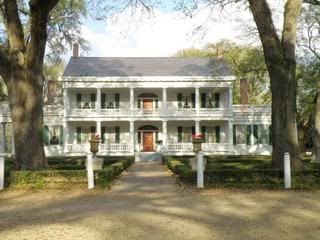 Sunday we went to Lovie grandparents to celebrate his grandmother's birthday. He had a great visit with his grandparents, his aunts and two of his cousins. After we went by my parents with a Chantilly Cream with fruit cake. If you have never had one of these you MUST find a bakery that has them. The only place around here that we can find them is Whole Foods.
    When we came home Sunday night to find a puppy on our back patio. He looked like he was about three months old, mix of lab and boxer. He fell in love with Lovie...But there was no way we could have another pet. Lovie gave him some food and the puppy found one of his old flip flops to sleep with! Today he took him to our local animal shelter...The puppy cried when Lovie left him =0(
    I am off to sleep and dream about Disney...Only 260 days to go! WOOT! WOOT! Goodnight & Sweet dreams...