8:00 PM   
     59

My Mood:

    The girls had a lovely day at the spa! "Belle" had her nails polished red and had her tail dyed red also! What a festive lil poof she has back there!
 
    We went downtown to The Big BR for  The Festival of Lights!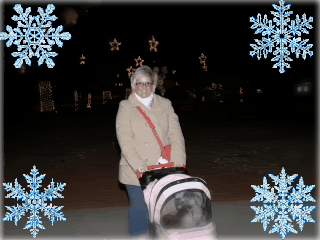 We put the girls coats on and put them in their stroller with a snuggly blanket and headed out!
    Everything was decorated and covered in lights! "Belle" has a rough time in the stroller, she thinks she HAS to have human (Mine or Lovie's) touch 24/7! But if you keep moving she will quit down and enjoy watching what's going by!
    We saw a wise man teaching the children how to make something, not sure what it was... A choir was singing at the Methodist Church, hot chocolate was being made (smelled yummy! wish it was ready!) We missed the live nativity, which I am sorry we did, that is my favorite part of the night!
The fireworks starting going off to signal the lighting of the tree! My girls DO NOT like the noise of fireworks! Poor things were both huddled in the back of their stroller trembling
. I was comforting them and Lovie was snapping pics!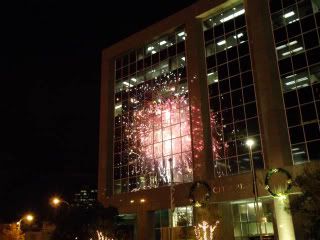 They were crying and Lovie was moving farther from me! People keep stopping to see the puppies, and they were not in the mood to see people! LOL  I was a lil nervous! But once the fireworks subsided  everything calmed back down...Ahhh!
   The tree was hugh and VERRA pretty, it was as tall as the two story building it stood next too! I just noticed we didn't get a picture of it! Bummer!
    Baton Rouge is under a lot of construction and remodeling, so the city was not as decorated as it normally is, but it was beautiful.
    We got home and the girls both snuggled on their blanket with me until I went to my nest, they were tired!

The Old State Capitol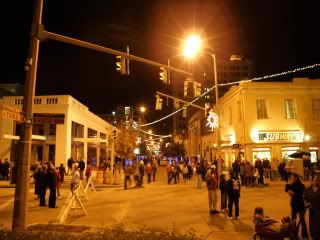 North & Third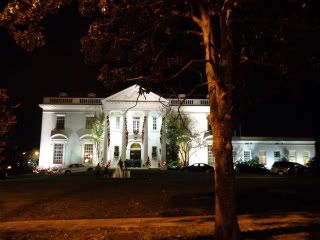 Old Governors Mansion

    We got up Saturday with intentions of getting out of the house and movin a lil early...Well...I took a sinus pill and fell asleep in my chair! Lovie FINALLY got me awake about noon and we got moving! We went to Paw-ticular Pups in town for the girls to see Santa Paws and have their picture taken with him. Mrs. Claus came along with him! What a treat! The girls took right to them and whispered what they wanted for Christmas and then smiled for the camera!
    After a treat ("Lexi" hide hers in the photographers purse!
) and many goodbyes we headed out. We went over to Bass Pro Shop to have a walk around. Yes they allow you to bring your pets in! Isn't that NICE! We got a basket once we got inside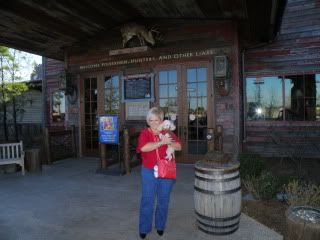 and they were ready to ride! We couldn't walk five steps without getting stopped! Everyone wanted to speak to the girls! NOT us! The girls!
    We found an "Elf" that told us that we COULD take pictures with Santa! YAY! She was verra helpful and fell in love with the girls and they we lovin' on her right back!

My helpful lil Elf
    We got a time card and then went exploring around the store to kill time. Everything was decorated! It was so pretty and magical!
"Lexi" enjoyed riding and standing up on the side when someone would stop us. Now "Belle" she STAYED of the back on the buggy whining for me to pick her up! I keep trying to make her stop but she was not a happy camper!
    Then I noticed her lil feet where going through the bottom of the buggy, so Lovie went and got them a blanket to put down. That helped some and I gave them a cookie.
    We went and looked at the BIG snappin' turtle and the fish. Of course I had to go through the shoe department! The girls gathered a BIG crowd there! I let Lovie entertain them while looked at shoes! ~*giggle*~ 
    It was getting close to our time to see Santa! So we headed back that way. Before we got in line we had our picture taken by another friendly Elf by the reindeer!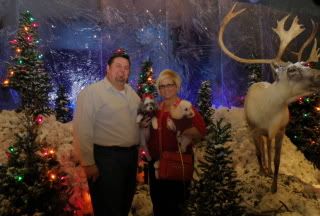 Then it was time to get in line and wait our turn to see Santa! They had a few people that walked right passed everyone in line and went to the front and one left MAD because they wouldn't let them  get in the front of everyone else already standing the line! Come on it's Christmas! It's about the children seeing Santa! She were fussing saying "we're going home!" the poor lil girl was starting to cry...
Mommy needs to be on Santa's NAUGHTY list!
   We waited and people stopped and talked to the girls and us! And then finally (like 20 LONG minutes later...Oh what a wait! LOL) it was our turn to see Santa! We got the girls all ready and we were told we had to hold them, ok no biggie...Santa pointed and said "I wanna hold her", I said who "Belle" he shook he head and laughed! He pointed again at ME! Then I laughed! It was a friend of ours in the Santa suit! SO of course I HAD to sit on Santa's lap!
BOW CHICKA WOW WOW! Ya think Santa's gonna be good to me?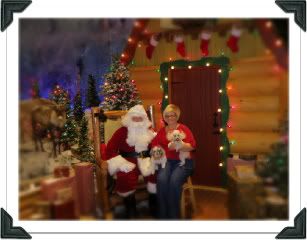 Us heading to the car to go look at Christmas lights...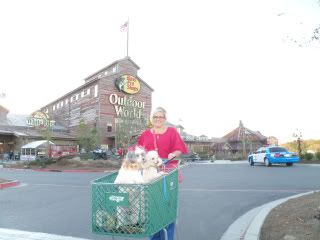 We ended our night at Copeland's Cheesecake Bistro for cheesecake and coffee before heading home! What a fun day!
    We had a fun weekend with our fur babies. I have been paying for it today with this sinus infection, my girlies must have been tired too, they have been in my nest with me all day too! I hope you and yours had as much fun as we did this weekend! Enjoy your Monday!