9:52 PM   
     64

My Mood:

    Happy 16th Anniversary to My Lovie and myself! It seems like yesterday that we exchanged vows and said I do. Our love grows more and more with each passing day. I couldn't have chosen a better husband for me. I truly believe that God created us to be together. I love you My Lovie...Happy Anniversary, I am looking forward to spending the rest of my life with you!
    I joined The Secret Santa Shindig hosted Kori (Thanx Kori...You did a GREAT job!) My secret Santa was Pam from Country Mouse, City Mouse I received my gift on Dec. 12, but wanted to wait till Christmas to open it! So...After we got home from my parents Christmas Eve it was after mid-night...SO I opened my gift!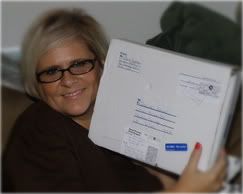 First I had a letter from Pam telling me how much fun she had reading my blog and that she hopes I like my gift and she was sending some of their snow our way! WELL...Needless to say all that time that beautiful gift was under my tree I didn't know that was the reason it had snowed in South Louisiana! SNEAUX straight from Canada with LOVE! THANX Pam! Now the other gifts I received!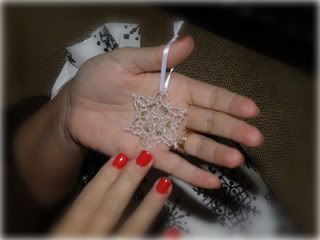 First I opened this LOVELY hand beaded snow flake ornament! I LOVE, LOVE, LOVE it!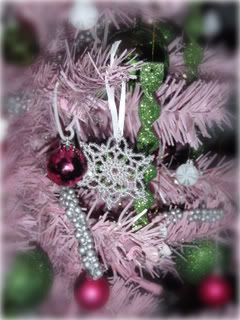 I had to put it on the tree right then!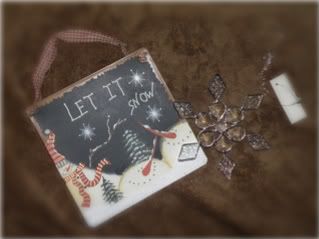 Then this adorable sign with Let it snow with MY FAV snowmen on it and a glass snowflake sun catcher! Isn't it pretty! It will be hung in the new house in my kitchen window YEAR round! And when I see the sun gleaming a lil rainbow I will think of you Pam and the snow from Canada! Thank you again for my wonderful gifts! I love them!

    Christmas was a lil different this year. My brother and family come ever other year and this the the other year, my niece was home in bed sick and Lovie's grandparents were in Texas. It sure didn't feel like Christmas with most of the family not here.
    Christmas Eve we went to my parents for out traditional corn & crab soup and game gift fun! We had a special celebration, my great nephew babe' A's 1st Christmas!
    We all ate and then started playin' our game! TIME to steal! HEHE But as the game went on everyone was getting what they wanted and no one wanted to steal! Bro-in-law got a fish fryer, two nieces got fire pits, sis got a radio, momma got cooking pans, daddy got a back massaging chair pad (I wanted that, but couldn't steal from my daddy!) nephew got a safe, other got a heated throw, I got a shower radio and Lovie got a heated throw...So everyone was happy with their gift and no on wanted to steal, so the game was short this year! But I KNOW next year when my brother is home there while be some stealin' going on! =0)
    Then it was time for babe' A to open his gifts! He had so much fun pulling at the paper! Lovie and I gave him a pair of Mickey footie jammies, stuffed Mickey, Curious George Christmas book and stuffed George. He loved the stuffies! and REALLY wanted the book! He was too cute!
    We got home and I open my Secret Santa gift, then we opened our gifts from each other! YAY! Lovie gave me a Jimi, UGG's, My Pillow, A Tink hoodie. AND he surprised me with the Infiniti by Conair Ionic Steam Straightener!! He got Guitar Hero World Tour from me, I know doesn't sound like much compared to what all he got me!
    After we opened our goodies it was time for the girls to see what Santa Paws brought! They received lots of toys, some CUTE new outfits, socks and treats! They were good girls! I love watching them dig in their stockings...They pull everything out!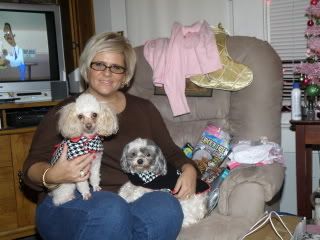 Christmas morning we NORMALLY are at Lovie's dad for 8am...Well we sleep in! By the time we got there our niece Miss. P had gotten up and had seen what Santa brought! Bummer! We exchanged gifts with the family and had a bite to eat. Miss. P  LOVED the electric drums we gave her! They go with the the guitar Santa brought! HEHE
    We went by my parents for a few minutes, they couldn't decided what they were going to do. They wanted to go to a movie and then again they weren't sure...Some of them ended up going and Momma & Daddy stayed home.
    We went to our BFF's to exchange gifts and have dinner with them. There was so much food! YUMMY...But I was full and couldn't eat, I did have a piece of turkey thou! 
    Lovie received from them a knife set and I got a cool hat and a cute snuggly throw! My BFF said oh there is one more gift for Jeauxdi...Her son hands me a box and her hubby said that's from me! I didn't know what to think! I started opening the box and I saw Sony! I KNEW what it was! MY Cosmopolitan Pink VAIO CS LAPTOP! Ekkkkkkkkkkkkkkkkkkkkkkkk! Lovie got me again! He sooooooooooooooooo surprised me with this! I LOVE, LOVE, LOVE IT! Thank you LOVIE! XOXO
    It's hard to believe another Holiday season has come and gone. Now it's time for Lovie and I to buckle down and start our search more heavily! Time to get MOVIN! I can't wait!
Have a giggly night and sweet, sweet dreams! I know what I will be dreaming of!