12:14 PM   
     64

My Mood:

    This morning I started cooking my chex mix that I cook every year. The house smells so good...And yes I have sampled, YUMMY!
    Friday after Lovie got home we went to finish our Christmas shopping, we started out at Target, then headed to the Mall of Louisiana...Oh the hussle and bussle of the crowd!  We got our list done all but one, that one was an exchange we forgot at home! Opps!
    Saturday night we went to dinner with family and friends at  The Chimes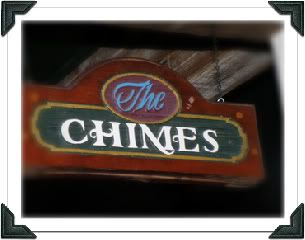 to celebrate Lovie's & my niece-in-law's B-days and my parents 51's anniversary.
   This was Lovie and I's first visit to the newest location, it was fabulous! The service was as great as the food! They were quick and steady for 16 of us.
   I had a crab cake sandwich, the BEST I have EVER had! I couldn't eat it all, but oh my it was good! It was perfect! I have never had one as yummy as that! I ready for another!
   Sunday we HAD to back out shopping one more time, we had to exchange one gift. We ended up going to PetsMart  for a few more gifts for the fur babies from Santa Paws, then Wal Mart to get the stuff we needed to cook with...MORE than we planned on for the afternoon, but glad we got it over with!
    Yesterday I did laundry, folded, hung and put clothes away. I was going to back cookies, but Lovie took over the baking from me! =0) He bake NESTLÉ TOLL HOUSE Refrigerated Cookies...Yeah we cheated! He baked mint swirled chocolate chip and chocolate chip with caramel inside! YUMMMMMMY! 
    I started wrapping gifts to go under our pink Christmas tree! One I didn't wrap was Lovie's because he knows what he is getting! He helped pick it out! See it in front! LOL I did put a bow on it! I love the paper we choose this year, it matches the tree! Pink, silver, black and white! PRETTY!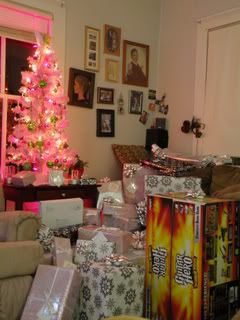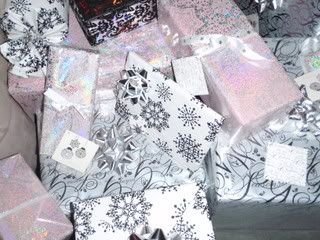 I didn't think I would ever get done, then started running out of paper! But by the time the last gift was wrap all was well! Oh and Lovie had his years paper roll playin'! HeHe My poor fur babies were in my lap trembling while I was trying to wrap gift while him talking scary to them through the rolls! MEAN DADDY! =0/  
    After I got everything cleaned up and all the gift under the tree the girls started checking them out!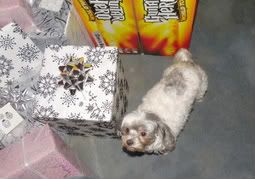 "Lexi" wants to know which one is hers? 


"Belle" is taking a peek!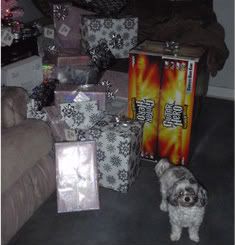 She is STILL waiting!
   
    We have the girls stockings ready for them! I can't wait for Christmas morning for them to see what Santa Paws brought!
   Well…I have been at this blog post and cooking all day (been having to get up every 15 minutes to stir!) I have two pans in the oven, on my second batch, and two more to go! Hope you are have a merry ole' time getting ready for your Christmas festivities! I am gonna lean my head back for a 15 minute nap! HA...Lovie will be here in a bit! Have a great night!