12:38 PM   
     69

My Mood:

    We started out our cruise last Saturday with dropping the fur babies at the B&B. They were a lil nervous at first, but settled right in once we putt here blankets and toys out.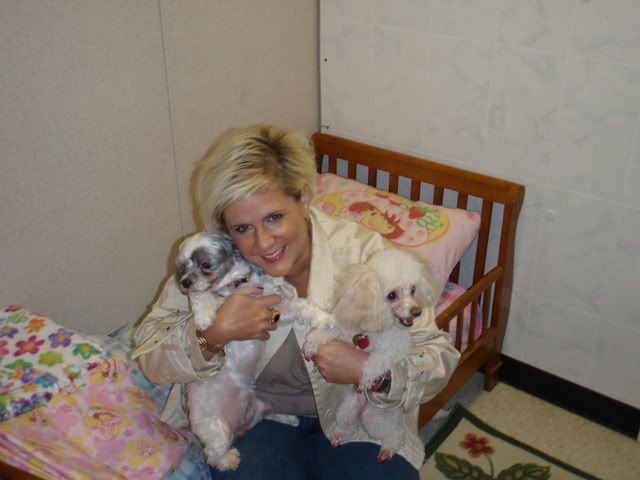 They ran around and smelled every lil nook and cranny and claimed the Strawberry Shortcake room for their own!  Notice in the pic I am trying to get one last snuggle and they are looking around wanting to go play!
Lil stinkers!
    We headed back to our house to pick up our BFF's to head to New Orleans to board the ship! We were a lil early so we road through the French Quarter first. Then it was time to head over to the port!
    Lovie unloaded us and all the luggage and we check it all in, then he went and parked the car. It was line time...Which was not too bad. It really moved pretty fast. We got all checked in, took our welcome aboard pic and checked in with customs and headed to the ship!
    Our stateroom were ready for us, so we went and took a freshen up and then headed up on the Lido deck to grab a bite to eat! Then...THE announcement came...We had some trouble and would not ship off till 8pm instead of 4pm! Bummer! But no biggie, the only thing was missing the sights along the river as we sailed out.
    Our first day we lounged on the deck...All four just laid back, listen to our Ipods and soaked up some sun! It was NICE! The three of them were listening to a mix, but I choose Christmas music! After all it is the start of the holiday's after Halloween to me!
I was singing my Christmas carols and Lovie and my Bff were singing other songs! LOL A couple that was sitting in front of us left! Oppps...Guess they didn't like our singing! But we had fun!
     I was about to slip into a nice lil nap when Lovie suggest we go walk, and I remembered I needed to get a handbag for dinner! SO we went SHOPPING! I bought a beautiful beaded bag (needless to say it didn't match my dress and had to go back and exchange it, and found a wrap to go with it! hehe) I found lots of goodies I wanted but didn't buy anything yet! But made SEVERAL mental notes for later in the trip!
    We all four got dolled up and headed down for cocktails with the captain and off to take pictures! And did we take some pictures! I think that is my favorite part of that night! Here are a few that we took our selves...I will post the professional ones later!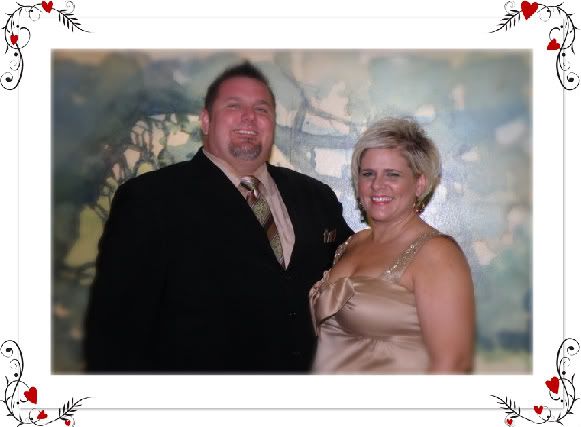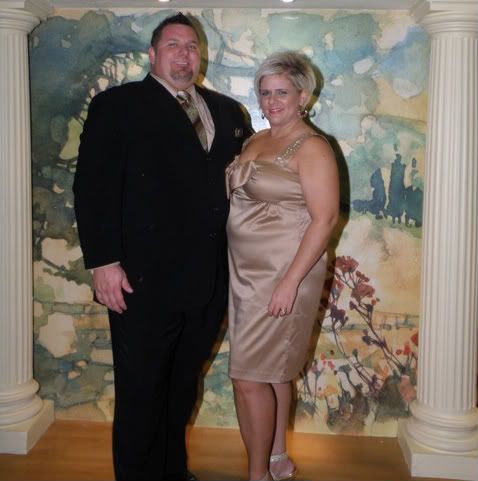 On Monday we docked in Progresso. We wanted to go the resort Lovie and I went to in May, so we were in the place to buy our tickets and there were two other couples waiting also, so we all booked together (and NO they didn't give us a group rate! EL CHEAPO'S!)  We all eight had lunch together and then we headed to the beach, once couple stayed with us. We all six hit it off great and spend the rest of the trip together!

    We had such a great time with them, she is from Brazil and he is originally from Texas, they live in Alabama, so I will refer to them a Bama Boy and Our Brazilian Nut. We couldn't have asked for two better people to meet on this cruise! We laughed and laughed with them! VERRA sweet couple!
    After dinner and a show we met B&B at the club for some late night boogyin'! We had a blast!
    We made our plans for our day in Cozumel and headed to bed! It was up early for us, we meet on the Lido deck for breakfast and then headed off the ship for some fun! We went to the Chankanaab Park...Oh my it was beautiful! We all six snorkeled...Lovie took some really great pics with my underwater camera! 
    After our long swim it was time to eat (sounds like we did al lot of eating huh? We did! LOL) Nothing better than Mexican food on the beach! SOOOO good! We headed back to town and went to Fat Tuesday's (Yeah we were not at Senior Frogs port! SUX I know!) and started drink...Well we didn't see the LITTLE sign the read NO CREDIT CARDS! We had NO CASH!
   Lovie and Our Lil Brazilian Nut had to walk 4 block with a waiter to use a ATM to get cash! And you guessed it! It gave him PESO'S! We paid our tab and had a whoopin'  300 peso's left ($30) B-nut and I ran back to a shop that we saw a tank we both wanted and the lady WOULD NOT come off $2 for the two shirts! UGHHHHH! We got a few lil things and RAN back so we didn't miss the ship!
    After our day in Cozumel we  skipped the dress dinner (I sleep!) TnT went to the buffet, I think Lovie ate!?! We all six meet up later that night and visited and had pizza at midnight! YUMMY
    Our last day at sea we all sleep in, the boys had breakfast together. We all meet on the Lido desk for some fun in the sun, but it is a lil chilly.  We ended up going shopping! YAY! B-nut and I LOVE the shopping! Her and I have LOST in common when it come to that! HEHE! 
    That night our Bff's and us dressed and went to take pics and went to dinner. We went and changed and meet B&B for the she A Ticket to Ride! GREAT SHOW! We all enjoyed it so much! After we meandered around the ship and ended up in our famous midnight spot munching on pizza! Our last night together..SAD
We all exchanged phone #'s, E-Mail's, ect...Then it was tiem to go to bed!
   We all meet for breakfast and spent as much time as we could together, then it was time for B&B to go, they were called before us. We gave huggies and said our goodbyes, and wished they well and promised we will see them again soon! Then soon after it was our turn to leave out floating home for the last week...Kinda sad, but we all four were ready to go home and get our land legs back! So we gathered our belongings and headed out...
    It was a great cruise with our BFF's and it was wonderful that we found B&B! A great way to start out the holidays! I will post LOTS more pics soon! I am in my bed sick with the flu...Lovie is gone to see his Mom while she is in New Orleans. I am about to snuggled under this covers and take a much needed nap...Enjoy your Sunday!