5:59PM
83

My Mood:

My friend buried her daughter today. Lovie and I went to the wake last night. I cried as I hugged each family member, but cried the most as I embraced my friend tightly. She was holding up pretty well, but whisper to me it's just a front and we both giggled and cried more. My heart is so broken for her and the family.
For a 18 yr old she was a brave and strong girl...She had made the decision to be a organ donor because her grandmother got a second chance with a heart transplant. So, she was able to donate her lungs, some of her skin and some of her veins. This is the most precious gift anyone can do, Lovie and I had made the decision years ago. I am a recipient from a bone donor, I had my shoulder rebuilt when I was 18, so it is a wonderful thing, something everyone should consider.
Rest In Peace Kathleen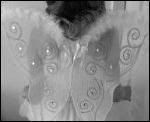 You truly earned your wings before you even left this earth...

This morning I was in the car and I was driving and singing with the radio and got to crying thinking about my friends other two daughters having to burry their sister. I miss my sister so much and she is still living and breathing. I tried calling her, but no answer.
Life is too short to go on like this! I want my sister back! You never know when someone will slip away from you...By their own means, a car crash, in the hands of another or their health. You should celebrate the ones you love even minute you are here on earth, you should tell and show them how they mean to you! ( I know I am repeating myself from my last post, but this is something I believe in so strongly!)
From a week of two friends losing a child each, we are going to a wedding this weekend. We go from endings to a beginning...Kinda surreal huh.
Well...We both are snuggled in for the night, hope you and yours have a wonderful night your way...Good night.