8:27 AM
82

My Mood:

On this day 30 years I was 9 years old and went to school verra excited! I had tickets for a concert for that night for SHAUN CASSIDY!
I couldn't sit still all day! As soon as the bus stopped in front of my house I was RUNNING to get in the tub and get ready! I opened the door and Momma and my sisters were sitting weeping! I knew someone had died! I started crying! I asked what was wrong...Momma looked at me and said "Elvis passed away last night!" I was in SHOCK! How, WHY! I was confused....How could someone so famous, so wonderful die? All Momma would tell me then was he had a heart problem, I found out years later it was the drugs.
Momma and my sisters had just been to his concert not long before he passed. They had tickets to go, went to the concert and he was sick, so they rescheduled it, so in I think about a month they went back and saw him in concert! I remember being SOOO jealous! I wanted to go soooooo bad! Momma bought me a button, I wouldn't wear it...I didn't want to mess it up! and yes I still have it in my hope chest!
I have loved Elvis all my life and will continue to love him. I love his music, I am HOOKED on the All Elvis channel on my Sirius radio! Elvis was and ALWAY will be The KING!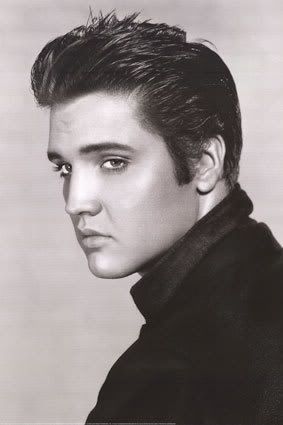 Elvis Aaron Presley
January 8, 1935 - August 16, 1977