11:10 AM   
    76

My Mood:

    Happy Friday! Hope you have something great planed for your weekend! Lovie and I are going to work in the yard...He want to trim some of the hedges and see what all he wants to put in the beds! YAHOO!
    Lovie hired a yard man to do the grass cutting trimming, edging ect...We do not own ANY lawn equipment! NONE! I will not even get into Lovie and the lawn equipment stories, they aren't good! (just picture a RUNNIN' push mower being tossed across the road! YEAHhhhh…) It's better and cheaper if we hire someone.
what did you do this week?
    Lovie and I turned our Face Book accounts back on last night. Face Book has changed a few things since we logged out a month ago. I made my mind up to log out of FB for myself because we were moving and I just needed a break to focus on the move and I wanted to get my "online self" back in order. Soooo while packing and unpacking I reworked and REWORKED my page, added this and that to my page...Opened numerous accounts! HA! Click on the label to the right ~Stalk Me to see where all you can find me on the web...

I'm in LOVE with the internet again! WOOT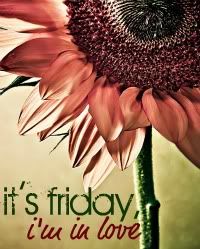 We had our first real sit down dinner Wednesday night! Lovie cooked a recipe he saw that I had pinned on my

Pinterest Board

~ Good Dishes Made with Love. This is what he cooked!

Louisiana Crawfish Casserole

OMGoodie! Was it good! He out cooked himself once again! I ate too much of it like I always do when he cooks! Those rolls back there! WoW! Sweet and Salty rolls! Melt in ya mouth! Ya have to ask him how he did them! YUM! I made myself SICK I tell ya! And we sat at our new table that was delivered that day in our breakfast nook!
    My medicine seems to be working for my Burning Mouth! Thank goodness! Not sure how much more of this I can take!?! Twice I have been on the brink of going to the ER! I have gotten broken down to tears with it hurting so bad and nothing to do...Poor Lovie on the brink of tears not knowing or having anything to do for it, it hasn't been all that much fun around here. I pray this is turn around for this!

      
    The Furry Girls are enjoying their new backyard! Running and playing catch with their Daddy  is ALL new to them! At the other house there wasn't that much yard that was fenced in to run and play (we had an acre of land, but not all fenced and closed to a busy road). They love to sit by the lake to take a break also! hehe Lexi tries to talk to the duck's...buuuut they don't know her so they don't wanna talk back yet! HA!
Bedtime!
What do you wear to bed?  PJ's or night shirt

What side of the bed do you sleep on?  right

Are you back, side, or stomach sleeper?  side and stomach

How many layers of bedding are on your bed?   4

Are you a bed hog or a covers-thief?   niether

in need of a mani/pedi! Ekkk...
    I added a page for my iPad Drawings! I  made it right click and Pinterrest free, my drawing are for me and are sold in my Etsy Shop I also do custom project upon request. Take a look around you might find something you like...I will be adding more soon!

   When I logged back into Face Book I had some friends ask "Where have you been?"...I/We didn't tell anyone we were closing our pages, it was an abrupt leave of absence I suppose, I would like to apologize for any hurt feelings I caused to anyone.  I was feeling a bit over whelmed at the moment, I needed to step back and breath.
   My sister always says "Shine your light", so I always make sure I shine, I always try to be the "brightest light" shinning bright so no one will ever be in the darkness.  I like to think that I'm like the PINK bulb on the Christmas tree lights (giggle) and yes I BLINK! Sometimes I might out shine you, I might out blink you, no one is going take my shine, blink or sparkle away from me!
   

Don't get mad if I out shine you...There will be a time when I will need you to shine on me.

Have a FAB weekend...

 

don't forget to wear ya green!