12:26 AM   
     55

My Mood:

    Well...It's a ALL CLEAR! YAY! My doctor did find some small blockages in the bottom of my heart, but he is putting me on medicine and will monitor them. He said they are small and nothing to bother with. Here are the pics of my heart...Don't even ask me where the blockages are, I have now clue! hehe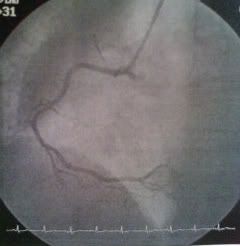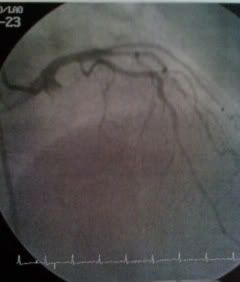 I was trying to wake up so we could go home, but all I wanted to do was SLEEP!
One eye was open! ~*giggle*~
    The allowed me to keep my glasses on during the procedure. I tried to see the monitor they were watching but I couldn't see it too good from where I was...Bummer!
     I was tickled when my doctor came in, all the nurses were sitting waiting on him I was dosing in and out, he came in and stopped...Looked at me and said "Is she ok?" They all said "yes she's fine". He came next to my head and asked if I was ok, I just smiled and said "oh yeah I'm fine!" I was felling nothing by this time! HAHA I did feel when he inserted the cath OUCH! Someone grabbed my leg and held it down. Opps...Sorry I moved.
   
     Thank you to everyone that called, E-Mailed, left comments on here, MySpace, Facebook and Twitter for me. You don't know how much they meant to me. All of your thoughts and prayers worked! Y'all are the greatest! XOXO
Have a giggly day!