8:45 PM   
     66

My Mood:

    I'm feeling pretty good since my test, but still have the chest pains. I am VERRA anxious to go back to the doctor to talk to him about what else he might have found on the scan. I pray he can help me find what is cause these chest and arm pains. It's scary…
    Our Easter started out Thursay with exchange of Easter gifts…YAY!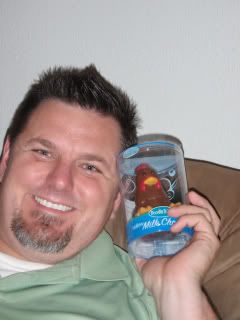 We spent Good Friday at the river camp with Lovie's family. We fished, colored eggs, had an egg hunt and fried fish. Oh and Lovie's Aunt made her bread pudding! OH my it was soooooo YUMMY!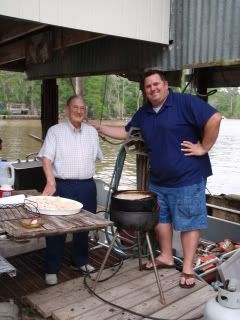 Lovie & his Pawpaw frying the fish!
    Saturday Lovie and I took it a lil easy for the day. But we did decide to go tan then came back home and nap! It was nice to be lazy!
    Easter morning we got up and had coffee and got moving. We went by my nephews first...It was my Great nephews 1st Easter! He was having so much fun with all his goodies everyone had given him! Lovie and I gave him a lil bull...He was SOOO cute with it!
    After we went to our BFF's. We haven't seen the main T in a lil while, he has been working 7 days a week! It was great to get to spend the afternoon with them! They had so much wonderful food...So much, it was hard to choose what to eat! And some really yummy sweets!
    We enjoyed ourselves with them so much. It had been too long since we have seen their families!
  
My BFF and her Boy Toy!

Me & My Biotch!
YOU should NEVER FlipVideo while drinking...See example below!
You get upside down crotch shots! OPPSS!
Hope you had a fun, family & friends filled blessed Easter as we did!
Goodnight & Sweet Dreams!