10:59 AM   
     79

My Mood:

    WOW...I have been MIA huh?!? I went back to the heart doctor for a check up, he told me that all my valves are just fine! YAY But they still want to keep a check on the blockages they found, so I will go back in six months for another check up.
    My heart is still having the pain, so my doctor is sending me for an upper GI, it could be acid reflux causing this. I have been on meds for acid reflux since I quit smoking in 2004, soooo it's time to have this done.
    On to other news...I have been thinking about getting another tattoo. Wellll I took the plunge and did it!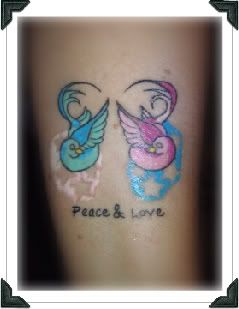 The sparrow's are for Lovie & I, we are always side by side, always looking out for each other, always looking over our shoulder to sneak a peek at each other.
    The stars are because the day we meet I stopped making wishes because all my wishes had came true.
    Peace & Love is all I have ever wanted in my life and what I strive for and is what I have with my Lovie...I'm glad I did it and proud of it.
    Haven't been able to tan this week with the new ink, so I have been such a homebody! I am ready to get back to tannin! WOOT! Have a great day...