6:19 PM   
     50

My Mood:

    Why such a long face ya ask? My throbbing head! My sinus' are driving me crazy! I hurt from my jaw line to the top of my head! I went to bed with a throbbing head ache yesterday, and it is still there today! My eyes hurt also, that is why I haven't been on the computer too much, hurts to look at the screen...OCHIE!

    Our Thanksgiving started out at 6AM! Lovie was at the bedroom door singing to me "Happy Thanksgiving..Time to get up!" Silly boy! We had coffee and started getting ready to go, go, go! Out the door by 9AM headed to Lovie's Dad's.
    The food smelled so good and my tummy was ready to dig in since I only had coffee! I stirred clear of the snacks since we had three more stops ahead of us! I received the best Thanksgiving hug from our nieces that referees to me as "Uncle Jeauxdi"
...I think it is too cute she calls me that!
    Everyone arrived and it was time to eat! We all lined up buffet style and fixed our plates and then gathered around the table to say grace. TIME TO EAT!
    Everything was so good. But Lovie and I tried not to eat too much! We all stuffed ourselves then sat at the table for some much needed visiting, gotta get caught up on things!
    Lovie's Mom called from his grandparents to let us know that his youngest cousin was being taken to the ER for an allergic reaction to something he ate. So we skipped going over there but keep in contact with them on his progress. He was ok, thank goodness, But they are not sure what it could have been. He and his Mom feed the bird, so it may have been the birdseed...Scary! 
    We headed over to my sister's (she doesn't live far from Lovie's Dad) for a nice visit! We ate a lil over there too!
It was all yummy!  I was SOOOOO excited that al my sister's children were there! It was so great seeing them all!
    My Pookey was enjoying his Thanksgiving!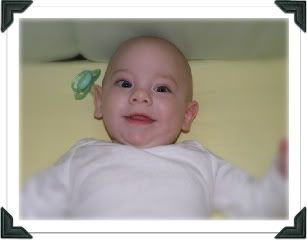 His Mommy feed his his first taste of yams! YUM! I missed it, but I got to be the one to be holding him while he deposited them! PHEW!
But I didn't mind!
    My sister pulled out the desserts! OH MY GOODNESS! I couldn't hold anymore, but I FOUND room! I had Chess pie and chocolate drop cookies! YUMMY!
   We all sat around and laughed so much our cheeks were hurting!  We all passed Pookey around to each other...Lovie had him giggling so hard, it was too cute!
    After stuffing our selves and sitting around till it went down a lil, we headed over to our BFF's TnT's for MORE goodies! I couldn't eat anymore, but Lovie ate some turkey and dressing, he LOVES the tastes of T's so it was a given he was gonna eat! We got home at 1:30AM and crashed! It was a HAPPY Thanksgiving!

Happy Thanksgiving from Me, My Lovie and Pookey!
    On Friday we went to the river camp to have Christmas with Lovie's Mom and sister and family in from Atlanta. BUT first we watch LSU lose by one point! BUMMER! Then Lovie fried fish, french fries, and fried corn on the cob! Stuffed ourselves again! Oh YUM! It was sooooo good! <')))>><
   
Lovie had a blast with his new camera!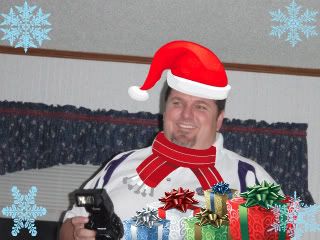 I had fun with mine too!
    I just started using Ojon on my hair. Can I tell you I am in LOVE with this stuff!?!?!? The first time I only used the shampoo and conditioner and my hair was like silk and it styled wonderfully! I did my first treatment with Ojon Restorative Hair Treatment, I was SHOCKED how great my hair felt and looked! It was so soft and looked full! I am SO glad I locked in on the auto delivery on QVC! Try it I promise you will love it too!
   I also bought the Infiniti Hair Designer , makes it so much easier to style my new hair! I am still learning how to handle my grown out hair (and yes I want it to grow a lil more) I still have to blow it mostly dry then use the designer to finish my style...LOVE IT!
   Ok I HAVE to rave about ONE more thing! We have reservations for next November for Disney World! I am SOOOOOOO excited I just can't begin to tell you how much! We didn't go this year because we went on the cruise at the first of Nov. with our BFF's for their 20th anni. No way we could swing Disney also!

    BUT...Next year we are going for 15 days! Ekkkkkkkkkkkkkkkkkkkkkkkk!

    Three MAJOR things for us next year...We will be taking the fur babies to the gates of Animal Kingdom to take pictures with characters, Tink is now a character at Disney World (OMG HOW exciting is THAT?!?!) AND...Santa PAWS is now at Downtown Disney to take pics with your pets! OH MY GOODNESS! I can not wait! I don't know if I will be able to contain myself till then! HEHEHEHE...

Have a giggly night & Sweet Disney dreams!