8:25 am
63
My Mood:
Oh my! Time has past me by! Too long since I have written! Lets see...Lovie and I had our 14th wedding anniversary yesterday! We went to the movies to see
Night at the Museum
, GREAT movie! We both really enjoyed it We had planned on having dinner out but had too much popcorn! It was a great anni!
Christmas has came and gone and it sure didn't seem like Christmas. Things were different this year, but next year I am hoping things will be somewhat back to our normal Christmas!
We did have some excitement...My parents lil doggie "Pebbles" was having seizures when Lovie and I got there! She had some really bad ones before we arrived to were so lost her bladder. We watched her and decided she really needed to see the vet! Lovie, myself and my niece took her to the ER Vet. She was still having the seizures while we were waiting!
Her turn came and the vet told us she has a heart murmor and she was not sei-ing anymore, but she was blacking out, because she was not losing her bladder but was "goign away" per say. They keep her over night and gave her some valum to make her rest. The next morning Lovie went to pick her up and take her to her vet, they said the same thing about her heart, gave her soem meds that and for seizure incase she starting having them again. So far she hasn't and she is doing better. Hope you and yours had a wonderful holly jolly time!
I am SOOOO hung up on DisneyWold! I have been dreaming about it almost every night! I envy the people that work there!
I have Cinderella as a friend on MySpace (well ONE of the Cindies that is!) She had written a blog entry announcing she and Prince Charmng (no really in real life they are together!) are going to have a baby and how she didn't think she would ever want one because of all the brats she puts up with everyday in the park! But I agree with her that being a brat is mostly their parenting. But isn't it neat Cinderella and Prince Charming are going to have a baby!!! TOO NEAT!
Our weather is suppose to be REALLY bad today! We are under a tornado watch now. That is way we are home and not at the campground! We are not sure if we are going in the morning or not...Not in festive New year kinda mood. Last year Lovie and I were in the camper sick at midnight! We might grabs some clothes and head out there...Who knows! I do know we will be somewhere!!
I wanted to post soem "shoping" pics of the girls and I forgot...So here they are!!!!
This is their Santa Paws pic...Click to see it larger!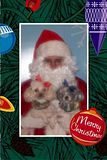 Doesn't she look excited to see the clothes!!!
OH MY GAWD! LOOK at all those CHEWIES!!!
Please don't make me get up...Shopping is HARD work!
Well Lovie is still slumbering and I need a second cup of coffee, so on that note...Have a giggly day and a Happy New Year! Lets hope everyone will stop beggin' in 2007!
The things that happen in RV's, with public officals in public places! WOW! Is that a new Hobby?
And YOU had nerve to point fingers! Just takening up your bad habit and MOST recent one my I add! Some poeple NEVER learn!
~*giggle*~