8:14 PM   
     50

My Mood:


STUFFED!
    We started our weekend with reservations at Koto of Japan with our friends (2 of the 4 J's). We had drinks in the bar and waited for our table, it was great to catch up with them. With them having two lil ones and both working full time, it's hard for us to get together. 
   Our seats were ready at the hibachi grill! JA and I went to our seats and the boys were paying the bar tab. I had to go the powder room to wash my hands...I had chocolate from my Martini glass all over them!
They were all sticky...YUCK! But the martini was good even thou a lil messy!
   
Then it was time for the show to start! YAY!  Our chef started out with lighting the grill on FIRE! HOT, HOT, HOT stuff! ~*giggle*~ Then he started twirling his spatula's like a wild man! Tossing them over his head, behind his back, ect...Then he started spinning eggs around and tossing them into his hat, then cracking them in mid air with the spatula. Pretty neat! All the while he was clanking his tools on the hibachi that made a lovely tune as he cooked our meal!

   Then it came time to start cooking the veggies! See the eggs still cooking...He was slicing and dicing everything in sight! He was switching back and fourth from the veggies to the eggs like lighting speed! We were watching in AHHH while eating our sushi! YUM!
    Lovie ordered steak and shrimp and I had the shrimp and chicken. Well it wasn't time to start cooking an meats yet! It was time for a VOLCANO! Well...An onion one! I thought it was pretty neat looking! He started out with a onion half, stacked it up and put fire to it and them a sauce that made it over flow like a volcano!
It was really neat to watch! And pretty!
    Finally it was time to cook some meat and get to eatin! The shrimp came first, they were great! Lovie's steak and my chicken went on the grill together. There he went again, with the slicin' and dicin'...The steak was done and Lovie was served. He liked his a lot. Mine was snazzed up with sauces, spices and sesame seeds! Oh my it was VERRA YUMMY! And I was so full already I could hardiy eat very much of it! BUT...We will be back! So I can get just the chicken next time HA! We had a great time needless to say! It was a wonderful Friday night date!
    This morning I woke at 4:58 AM with Lovie getting in the bed...He was COMING to bed! He had fell asleep in his chair...Poor babe'! He sleep till 12:30! HAHA We drank coffee and check E-Mails (I had already done all this! I drank another cup with him) and then we got dressed to run the road.
    We had dinner tonight at Copeland's Cheesecake Bistro. It was great as always! But the BEST part was the cheesecake! Lovie had White Chocolate Macadamia and I had Dulche De Leche & Praline. I can not begin to tell you how wonderful mine tasted! It was chocolate cheesecake with dulche de leche sauce, chopped pralines, fresh whipped cream and a praline on top! OH YUM! And sad to say I couldn't eat all of it! FOR SHAME!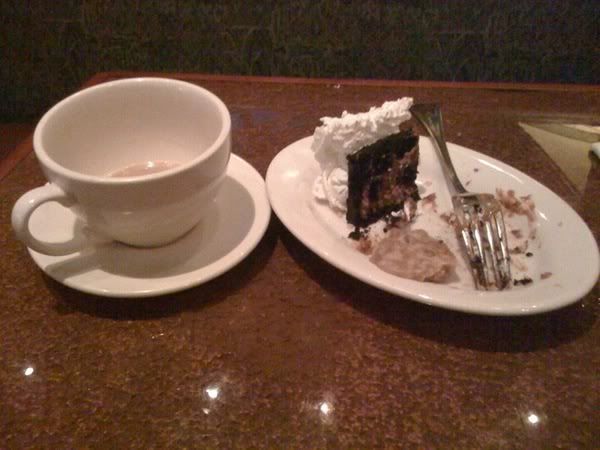 On our way home we stopped at Lovie grandparents to drop off their phone charger they forgot at the hospital when Pawpaw was discharged. We visited for awhile with them. They were getting ready to listen to the game and we were STUFFED with cheesecake so we wished them well and headed home to settled in ourselves.
   Lovie has been updating me on LSU vs. Troy...Sounds like LSU needs some GrisGris! Troy must have smoked a peace pipe with the medicine man as he blessed them with smudge stick before the game! UGH..COME ON TIGERS!
   It's almost time for MadTV and SNL, so I bid you Goodnight and Sweet Dreams! Enjoy your Sunday!